Da Ma Cai reached out to Selangor Family Aid Association through its Staff-In-The-Community program
China Press - Metro, P.C8 (28 October 2019)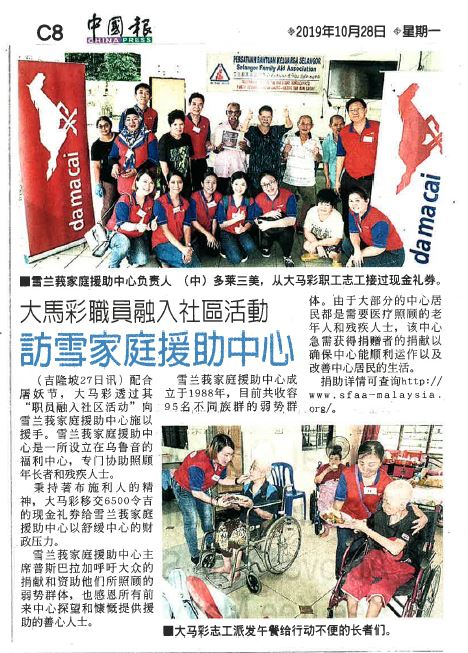 In conjunction with the celebration of Deepavali, Da Ma Cai through its Staff-In-The-Community (SITC) program reached out to Selangor Family Aid Association (SFAA), a welfare centre for the aged and disabled located in Ulu Yam Bharu, Selangor.
In the spirit of festive giving, Da Ma Cai contributed cash vouchers worth RM6,500 to SFAA to alleviates its financial burden.
"We appeal to the society sympathetic and humanitarian sentiments to provide us donation or sponsors for the underprivileged members under our care. My gratitude towards visitation and generous support offered to our Centre," said SFAA Chairman Mr Pusparajah Gunaratnam.
Established in 1988, SFAA currently provides care to 95 multi-racial individuals. As many of the residents are elderly or disabled requiring consistent medical cares, the centre is always trying to push the boundaries further in its struggle to have a smoother operation.
For details or donations, please refer to http://www.sfaa-malaysia.org/