Da Ma Cai brought love to special need children via Staff-in-the-Community initiative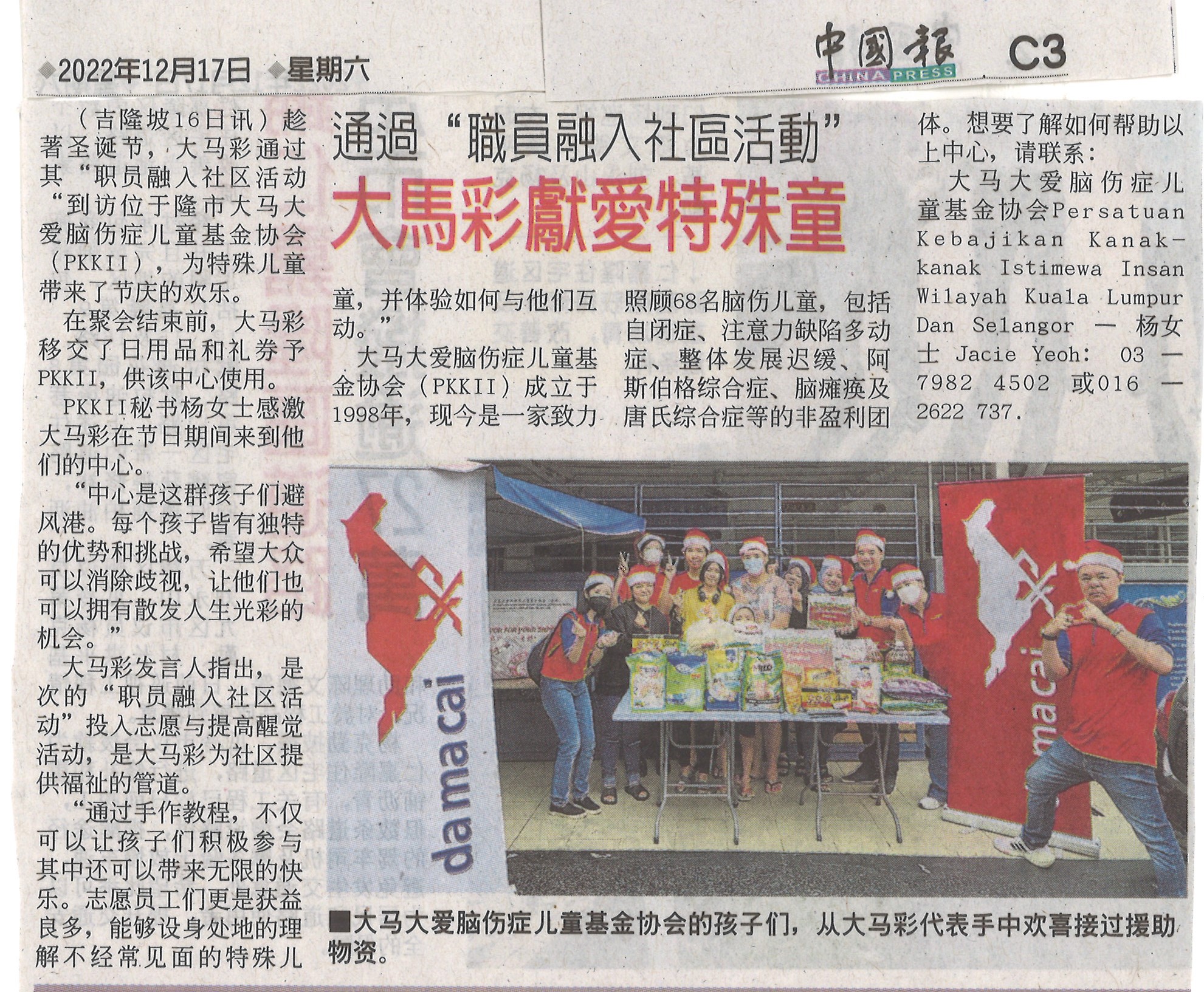 China Press (17 December 2022)
This Christmas, Da Ma Cai via its Staff-in-the-Community (SITC) initiative brought festive joy and smiles to special children at Pertubuhan Kebajikan Kanak-kanak Istimewa Insan Wilayah Kuala Lumpur Dan Selangor (PKKII).
Before ending the gathering on a merry note, essential groceries and gift vouchers were presented to PKKII.
Jacie Yeoh, the Secretary of PKKII expressed her appreciation to Da Ma Cai for coming to them during this festive season. Yeoh added, "Our home is a haven to shelter and protect the less fortunate children. Each of them has a distinct set of strength and challenges and we hope the public can see them beyond their label. With volunteers interacted and guided the children in crafting, it brings happiness and helps to instill confidence in them and therefore we always welcome corporate angels like Da Ma Cai to extend their wings and support us."
Da Ma Cai spokesperson said, "This SITC initiative in volunteering and raising awareness is an avenue for the Company to empower the communities. "
"The crafting session brought lots of joy to the special children and kept them meaningfully engaged. For our volunteers, they learned to empathise with the children that they don't usually meet, and experienced how to interact with them. We are pleased to see the children motivated with full confidence in completing their task."
Founded in 1998, PKKII is a non-profit organisation that provides help and care for a group of 68 children suffering from autism, attention-deficit hyperactivity disorder (ADHD), global development delay (GDD), Asperger's syndrome, cerebral palsy, down's syndrome, etc. To learn more about how you can help the residents of Pertubuhan Kebajikan Kanak-kanak Istimewa Insan Wilayah Kuala Lumpur Dan Selangor, please contact: Miss Jacie Yeoh at 03 – 7982 4502 or 016 – 2622 737.