Lucky winner from Selangor drives away with a brand new Honda CR-V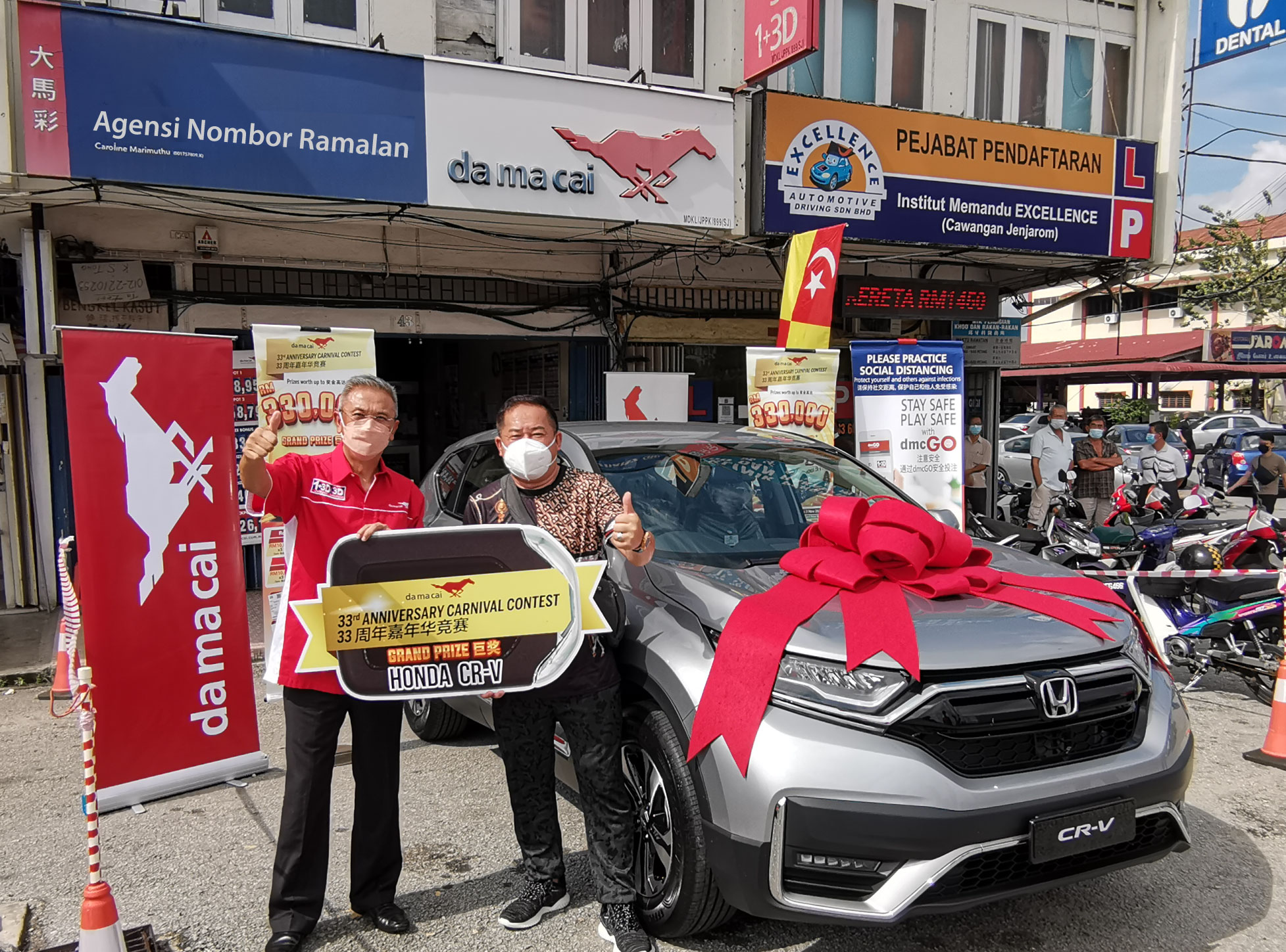 16 December 2021
A man who says he has never won anything walked away with a brand new Honda CR-V after it was announced that he was the grand prize winner of the Da Ma Cai 33rd Anniversary CARnival Contest.
Da Ma Cai presented the grand prize to lucky winner of its Da Ma Cai 33rd Anniversary CARnival Contest at Da Ma Cai outlet located at Jenjarom where the lucky winner bought the tickets.
Mr Tiew Chee Hock from Selangor, the ecstatic grand prize winner said, "I only remember I entered the Contest but I didn't expect to win anything. At first, I didn't even believe that I have won this grand prize. I thought it was a scam. Now I am walking away with a brand new car, I know this is real. I believe in luck and it was certainly on my side on this occasion!"
Da Ma Cai, gave away prizes worth RM330,000 to 825 lucky winners of the Da Ma Cai 33rd   Anniversary Carnival Contest in celebration of its 33rd Anniversary. Expressing his appreciation for the encouraging turnout of contest participations and support from customers, Da Ma Cai Numbers Forecast Operation Senior Manager Andrew Ho said: "We are happy that the Contest that kicked-off from 16 October until 28 November 2021 has attracted more than 300,000 entries with participants nationwide. This Contest comprises of 2 rounds aimed to reinforce the value add that we offer to all our loyal customers, and it is definitely a joyful and rewarding experience with all the bigger and better prizes throughout the Contest."
Other lucky winners for this Contest include 6 Top Prize winners of RM10,000 each, 18 Top Prize winners of RM3,000 each, 160 Consolation Prize winners of RM200 dmcGO free credits each and 640 Consolation Prize winners of RM50 dmcGO free credits each.
Customers just need to play the 1+3D Jackpot System Bet 4 Lucky Pick game and answer a simple question to participate in the Contest.
 Da Ma Cai was founded on 14 July 1988. In 2011, the Company was acquired by Jana Pendidikan Malaysia Sdn Bhd. Following this acquisition, Da Ma Cai has been effectively transformed from a for-profit organisation into a social business, providing long term donation to The Community Chest that supports education for the benefit of the Malaysian community. 
 Da Ma Cai is a brand of Pan Malaysian Pools Sdn Bhd ("PMP"), Malaysia's authorised Numbers Forecast Operations ("NFO"). On an annual basis, Da Ma Cai actively supports various causes in the areas of education and social welfare through a wide range of programmes and activities carried out in the country.